Please visit our Facebook Business Fan page to view our most recent testimonials...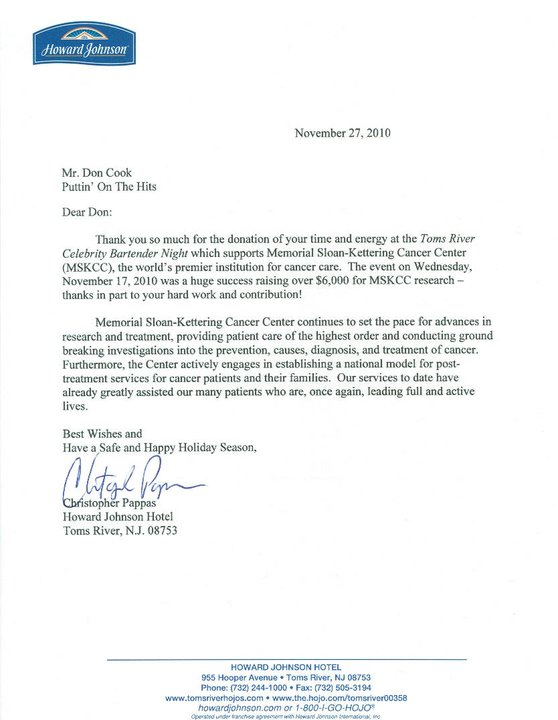 Weddings & Anniversaries
Name:Ellen & Greg
Comments: We had a small, but intimate wedding April 29, 2006. But with Don's DJ experience and listening to our request we filled out on the papers previous to the wedding on what songs to play to get the crowd jumping out of their seats and dancing. It worked, he followed the notes with additional request guests had at the wedding. We had them all up and dancing. We were so happy to see everyone just having a nice time and it will make a lifetime of memories for us. We would definitely call Don for future events we have. He dressed appropriate for the wedding and spoke clearly with every word. Thanks again for making our day special. The music is the most important at functions with the food. Ellen & Greg
Name:Jodi & Mark
Comments: Excellent. Did everything we requested. We will definitely make future referrals. We got more than we paid for. Thanks for everything!
Name:Ann & Willie
Comments: Excellent & Professional. All names pronounced correctly! Above expectations. Got more than we paid for. They did all our requests PLUS! Sound system quality was superb! Thanks for making this an AWESOME wedding!
Name:Phyllis & Joe
Comments: Excellent. You were great Don. Thank you so much!
Name:Christine & Russ
Comments: Excellent, with good taste, music selection and personality.
Name:Lois and Mike
Comments: Thank you for making our wedding day a great day. We will refer your DJ service to anyone we know how is getting married or having a party and we will use you again if we plan a party that will need a DJ service.
Name: Clel and Ken
Event: 25th Wedding Anniversary
Comments: Don did a great job as an EmCee and a leader of all of the fun group dances. He was very concerned about doing what we wanted. Don was great! We would definitely use him again!
Name: Carla and Joe
Comments: Excellent! Exactly what we wanted. Don went above and beyond to make the night go well. Every other Wedding DJ we had seen or heard of was obnoxious, overbearing and tacky. They didn't seem to care about what we wanted, and felt they knew what was best for the reception. With Don, we got the feeling we could trust him to play what we wanted and he met all our expectations. We had a specific type of music we wanted played. Don played
all our requested songs and then did a great job filling in with music we were really happy with. He really understood what we wanted. The price was excellent, and I will suggest Don to anyone I know who needs a DJ. Thank you, Carla And Joe
Name: Stephanie and Tony
Comments: Everyone loved the props! I thought everything was great! I loved the Limbo Stick! We had a great time! We will recommend you to everyone. Thank you, Stephanie and Tony
Name: Jodi and John
Comments: Excellent! The banquet manager called me to get your name so she could suggest you to other people!
Name: Janet & Chip
Comments: Excellent
Name: Amanda & Tanner
Comments: Don was excellent! Exactly what we wanted. Everything was perfect. We wouldn't change a thing. You got the guests involved without taking over the party. You played music to suit everyone - young and old. All the songs we requested were played. We would refer your service to anyone. In fact, we went to a wedding shortly after ours who used a larger well known company we also interviewed. We both agreed that the music at our wedding was better and our guests had much more fun. They are still talking about it! (Plus, your price was much more reasonable). Thanks again! Tanner and Amanda
Name: Roseann and Alan
Comments: Excellent! Roseann and I would like to thank you for making our wedding reception a success. We are still talking to people that had such a good time at the reception.

Name: Doreen and Don
Comments: Superb! He attended to all the requests asked of him! A perfect day! Don was an incredible DJ. I received many compliments from our guests that the music choices were evenly balanced. Everyone enjoyed him. Don and myself loved everything he did for us. He made our wedding the most special and memorable. Thanks again Don. Doreen and Don
Name: Kim and Dennis
Comments: Don was excellent! Extremely courteous and professional! Many of our guests took Don's business cards to refer to for upcoming events. Everything was wonderful. Better than we could have imagined. We had the wedding of our dreams! Thank you! Dennis and Kimberly.
Name: Mady and Philip
Comments: Very well. Everyone said it was the best wedding music they've heard. We recommend Don whenever any asks about music for events. We chose Don because we had a great phone conversation. We knew he'd be perfect. Don looked and acted very professionally and conducted himself exactly as we discussed. We didn't want an interactive, game playing DJ. He gave us precisely what we asked for though it was not customary for wedding receptions. We received exactly what we had asked for. Everybody loved the music, and we all appreciated that there wasn't' the usual wedding antics. Also, Don had to compete with a Bar Mitzvah next door and did it without overwhelming our guests. He constantly checked on progress, especially because we did things a little differently than most weddings. He allowed us to have our own style instead of forcing conventional wedding styles. We loved that Don worked with us to make our wedding unique and not what he thought (or anyone else thought) what wedding music should be like. We really enjoyed it and so did our guests. Thank you for doing such a great job. We really received loads of compliments on the music.
Name: Colleen and Chris
Comments: He was great. You did just what the crowd wanted to keep them up and dancing.
Name: Carisa and Tom
Comments: Great!! Wonderful! Thanks for getting ALL our guests into it!
Name: Michael and Katie
Comments: (Don) did a great job. Perfect, what we wanted. I would strongly recommend Don. Don, thanks for helping to make our day special.
Name: Kim and Scott
Comments: Awesome, everyone loved the music and party props. He made sure everything was perfect. Don was awesome. Our wedding was a blast. Don was highly recommended to us from (the groom's Mom). Don did her daughter's wedding. I took her recommendation and went with it. I have to tell you, everything was perfect. Everyone had a blast. Two things make a reception perfect: food and music. I know the food was awesome and plenty of it. The
music made the night into one big party – just what I wanted. I want to thank Don and his assistant for a great time. Thanks again, Kim and Scott
Name: Donna and Bob
Comments: Many people asked who the DJ was and said he was great. Everyone, from the young to the older guests enjoyed the music and the DJ. We had Don at my sister's wedding and we had him for my wedding. I'm sure he will be asked for my brother and my other sister's when their day comes. People say the music makes the party and without a good band or DJ, it could be a flop. My wedding was a dream come true with the help of Don. Thanks.
Holiday Parties

Name: Joe D.
Comments: Very Good
Name: Joanne P.
Comments: Don's the only DJ I hire – for ALL events!
Name: Dee S.
Comments: Very satisfied with the performance as always.
Name: Judy P.
Comments: Wonderful program. Will hire again.
Name: Gerri G.
Comments: Fantastic
Name: Mary I.
Comments: Excellent. Personal touch came through in response for quote.
Name: Ed M.
Comments: Don was excellent. We have used him before for two years and will in the future. We had probably one of the best Christmas parties we have ever had.
Name: Martin B.
Comments: Excellent. I really liked the games played during your performance. It kept the crowd really involved. Thank you, Marty B.
Name: Barbara M.
Comments: Fantastic. Can't say enough about how I appreciate all the efforts you put forth to help make our party a smash hit. Thank you again for all your help. Barb
Name: Diane K.
Comments: Outstanding! Don is great. We have used him before, tried someone else one year, and came back to Don.
Everything Else
Name: Hope M.
Event:50th Birthday Party
Comments: Great! Very accomodating. Music was great! It was perfect. Thanks so much don!
Name: Thomas M.
Event:Summer Party
Comments: Excellent. Don, you're great. One of the family. You and George (a guest) are perfect together!!
Name: Elaine F.
Event: Karaoke Talent Night
Comments: Excellent. They loved Don.
Name: Fred F.
Event: 60th Birthday Party
Comments: Great. Only DJ to return call promptly. Don't change a thing. Don is very flexible and great to work with.
Name: Fr. Ken
Event: Nights of Summer Carnival
Comments: On behalf of the carnival committee, I would like to personally thank you for the donation of your time and talent during the carnival. The entertainment provided is an asset to the church and carnival to make this most important fundraising event a success.
Name: Karen S.
Event: Confirmation Party
Comments: I thought Don's performance was excellent. I thought Don did an excellent job and would recommend him to my friends/family and I would hire him again in the future.